YLWD Rapid Fire Response


Kudos and a job well done to the Yorba Linda Water District (YLWD), which was swift to respond and provide assistance during the Blue Ridge Fire that broke out in Orange County last week. YLWD's award-winning Marc Marcantonio Heli-Hydrant supported aerial firefighters battling the blaze. The Heli-Hydrant was strategically placed in a fire sensitive wildland-urban zone to provide a rapid water source to helitankers that can be filled with 2,000 gallons of water in under a minute. "Yorba Linda has been hit incredibly hard with wildfires in the past. We've worked hand-in-hand with local fire authorities to save critical time and aid in effective firefighting," Board President Phil Hawkins said. YLWD plans to continue that support by constructing more heli-hydrants throughout the district in the coming year. Read more in the press release.
Tap-In with LVMWD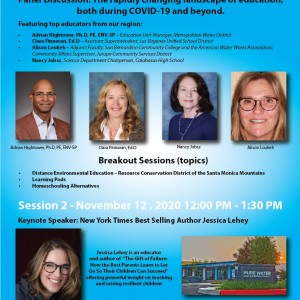 It goes without saying that ALL of our lives have changed drastically in 2020 and perhaps no one more so than parents. Balancing the new norm of work, being a parent, and now a teacher couldn't be more difficult and challenging. This is part of the motivation for the Las Virgenes Municipal Water District to focus on education for their annual TAP-IN 2020 event. While parents are finding interesting and unique ways to teach their children from home, they wanted to offer a webinar that features well-respected educators, a New York Times best-selling author, and breakout sessions that will provide ideas and other educational options for students to learn more about sustainability, water, the environment, and what the future of education will look like moving forward. This event is useful for anyone interested in becoming more familiar with our new virtual norm and how this might impact the future. This free event takes place tomorrow, November 5, 2020 and November 12, 2020 as a power lunch from 12:00pm to 1:30pm. This is a special event you won't want to miss, be sure to register today for Tap-In 2020.
West Bay Sanitary District Names New District Manager


The West Bay Sanitary District has appointed Gergio Ramirez to serve as their new District Manager. Sergio joined West Bay Sanitary District 10 years ago and served as the Operations Superintendent. "I'm really enjoying my time here at West Bay Sanitary District. Working with a progressive staff and Board of Directors is fantastic and I feel blessed to have benefitted from great mentors along the way including, most recently, the retiring District Manager, Phil Scott." said Mr. Ramirez. Congratulations to Sergio Ramirez and West Bay Sanitary District on this new chapter. Read more in the press release.