California Water Professionals Appreciation Week Interview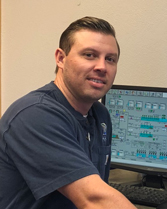 Name: Todd Morine
Title: Water Treatment Operator III
Number of years in the water industry: 3 years at wastewater treatment plants
Responsibilities: My responsibilities are to ensure that Folsom's 50 MGD water treatment plant stay in regulatory compliance.
• Daily reads from various detection equipment allowing changes to various chemical feeding systems to produce the highest quality water possible
• Managing the production of water based on the city's need
• Maintaining a constant flow of raw water into the plant while also maintaining the varying water system demands
What attracted you to this type of work?
One day you can be in the office researching something technical such as control systems, solving a water hydraulics issue or perhaps a special project for process optimization and the very next day you will be helping the mechanical department change out a large pump or install new equipment. So the versatility of an operators skill set is challenged constantly and since it will be impossible to learn everything in one's career, you will never get bored.
What would you say to someone considering working in the water industry?
If you are someone who enjoys math and science but also likes to get outside some days and perform physical work it is the perfect career. I can see that for employers, it is hard to locate someone who can provide both academic and trade skills. This is an incredibly rare skillset to possess, and thus very high in demand. Not to mention the benefits and job security that inherently comes with this career is really something to be thankful for.
What is your outlook on clean water efforts for the future?
There will be a continuous movement towards safer water treatment techniques and hazardous constituent detection in source waters. This is a very dynamic industry with many bright individuals developing technologies to ensure that the safest water possible is provided to the public.
What inspires you at work every day?
I am inspired at work every day because I can contribute to the safety of the public. Water, as we all know, is one of the most essential components to life. I also love how learning is an everyday experience for me.
Is there are particular moment or memory working in the water industry that stands out for you?
I can recall many different times in the early morning or late at night, in the pouring rain, turning valves trying to mitigate a problem, then the very next day sitting in a nice warm office doing paperwork. I really enjoy the constant change of pace, it's very motivating for me.