Promising Water Board Study on POTW Excess Capacity Released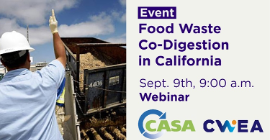 On August 24, the State Water Board released a long awaited
report
on excess capacity at California wastewater treatment plants for co-digestion of diverted organic waste. The in-depth comprehensive analysis of opportunities and challenges for the wastewater sector in helping the state meet the mandates of SB 1383 was commissioned by the State Water Board and executed by Carollo Engineers. Tomorrow, September 9, from 9:00am to 10:30am, CASA and CWEA will host a joint webinar exploring details of the study: 
Food Waste Co-Digestion in California – The Role of WRRFs and Investment Needs to Maximize Co-Digestion in Support of SB 1383
.The excess capacity report is an important tool that demonstrates the opportunities for additional partnerships between solid waste operators and the wastewater sector to meet the state's short lived climate pollutant reduction targets. CASA will be actively engaging with partners, stakeholders, and policymakers to make them aware of the findings in the report.

Expert Panel on Sewage Surveillance Features CASA's Greg Kester

CASA's Director of Renewable Resource Programs, Greg Kester, has been invited by the University of Wisconsin-Milwaukee's School of Freshwater Sciences to participate on an Expert Panel for a project funded by the Alfred P. Sloan Foundation entitled "Building Capacity and Communication Networks in SARS-CoV-2 Sewage Surveillance Programs for a Public Health Response". The goal of the Expert Panel is to develop best practices for reporting and interpreting sewage surveillance data, assure that the information shared is responsive to public health concerns and perspectives, and develop a communication strategy that can be used by communities building surveillance programs. Principal Investigators for the project include Drs. Sandra McLellan (UW Milwaukee), Alexandria Boehm (Stanford), Kyle Bibby (Notre Dame), Andrea Silverman (NYU), and Dominque Brossard (UW Madison).
The National Biosolids Regulation, Quality, End Use & Disposal Survey


The North East Biosolids & Residuals Association (NEBRA) is moving ahead with the 2nd National Biosolids Data Project, an update of the widely cited survey and data published in 2007. Work on the project has already begun, with the actual surveying planned for later this month. NEBRA is asking those who can contribute to consider donating to help fund the project. For more information please see the attached Prospectus.