2020 Washington D.C. Policy Forum Recap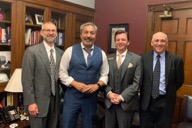 Thank you to all who joined us last week in the nation's capital to hear from distinguished speakers and participate in Capitol Hill visits with our California Representatives and their staff! During the 17th annual Policy Forum in Washington D.C., we heard from congressional staff, political insiders and other policy experts on what to expect in 2020. We have already received wonderful feedback about this year's event and hope all those who attended left feeling informed, inspired, and ready to tackle the new year! As always, we were proud to advocate on behalf of CASA member agencies to advance clean water priorities. It's never too early to save the date for the next CASA Conference, which will be held on August 12 – August 14, 2020, in Squaw Creek.
Award of Excellence Nominations Open


CASA invites member agencies and associates to submit an Award of Excellence application now through May 1, 2020. Your organization works hard to do what's right for California. Recognition from the leading clean water association honors your hard work and accomplishments. It's a symbol of respect, credibility, and innovation, and can improve employee engagement and morale. Winning an award of excellence also positions you as a leader with the media and other influential members of your community. Categories include Excellence in Innovation & Resiliency, Public Outreach/Education, Organizational Excellence, and Outstanding Capital Project. Award recipients will be honored in August at the CASA Annual Conference in Squaw Creek. Apply here!