2022 In Review: Message to the Membership
As 2022 draws to a close, it is a good time to reflect on our accomplishments and celebrate the successes of the past year. CASA is pleased to share a summary of our key activities and accomplishments, and we truly appreciate the support of our membership and the entire clean water community. Read more here.
Erin Brockovich to Speak at CASA Winter Conference


We are very pleased to announce that Erin Brockovich, renowned consumer advocate and environmental activist, will be the Keynote Speaker at our 2023 Winter Conference in Palm Springs this January! Erin Brockovich is living proof that an ordinary person can change the world. As a Southern California law clerk, she spearheaded a successful lawsuit against a major company on behalf of hundreds of people who had unknowingly been exposed to toxic waste. Her efforts inspired the Oscar-winning feature film that bears her name, and led her to a successful career as an environmental activist and public speaker. Join us in Palm Springs January 25 – 27 as we hear from Erin Brockovich on important topics, including PFAS.
Have questions about registering? Please contact Cheryl MacKelvie or register here to join us in Palm Springs January 25 – 27, 2023!
Citizens Academy 101 Webinar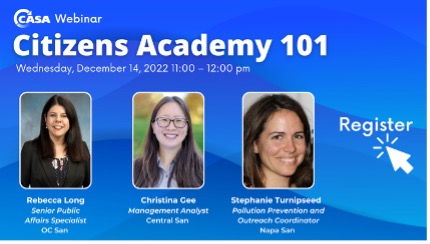 Looking for new ways to engage with your ratepayers? Has your agency considered implementing a Citizens Academy? Join us for a chance to hear from those with first-hand experience developing and running these interactive programs. Citizen Academies are a great way to help engage customers and develop greater public awareness about the incredible activities wastewater agencies engage in every day. Register today for a free webinar hosted by CASA next Wednesday, December 14, from 11:00am to 12:00pm. Hear from OC San, Napa San and Central San as they share lessons learned, planning tips, materials, budget and all the tools you need to build a successful program.
Please contact Alyssa Downs with any questions.
CASA Washington DC Policy Forum Registration Now Open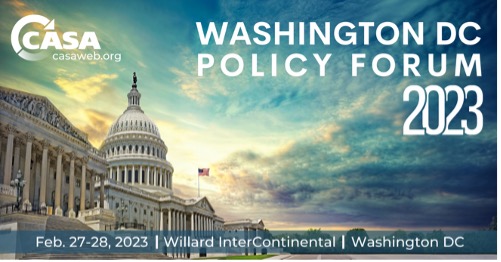 Registration is now open for the Washington DC Policy Forum. Hosted at the Willard InterContinental Washington, D.C., the event will feature an excellent program with renowned speakers from Congressional staff, reporters, and national water associations providing their perspective on the infrastructure package and other exciting developments of importance to California's clean water professionals. This year, we have set aside time for agencies to make their own appointments for Congressional visits, with the assistance of our federal advocates Eric and Sarah Sapirstein. Join us in our nation's capital to strengthen our advocacy and promote our collective federal agenda on February 27 – 28, 2023. We hope to see you there!