D.C. Forum to Feature POLITICO's Daniel Lippman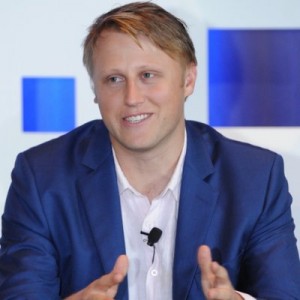 Daniel Lippman, White House and Washington Reporter with POLITICO, is among the strong lineup of speakers who will address the CASA Washington D.C. Policy Forum February 24 – 26. Mr. Lippman has co-authored POLITICO's Playbook and continues to write in both the "Great Weekend Reads" and "Social Data" sections of POLITICO's New York Playbook. Mr. Lippman has previously worked for CBS News, the Wall Street Journal, the Huffington Post, and E&E publishing where he covered climate change, environmental and energy news. Be sure to attend the conference luncheon on Monday to hear from Mr. Lippman!
It's not too late to register today to join your colleagues in the nation's capitol to help strengthen our advocacy and meet with your Congressional Representatives. Check out the preliminary program for more information.
CASA Agencies Shine at NACWA National Environmental Achievement Awards

Congratulations to CASA members Central Contra Costa Sanitary District, East Bay Municipal Utility District, Sanitation Districts of Los Angeles County, Santa Rosa Water, Victor Valley Wastewater Reclamation Authority, and our very own Bobbi Larson who garnered National Environmental Achievement Awards during the 2020 NACWA Winter Conference in Atlanta, GA. The award program recognizes individuals and NACWA's member agencies that have outstanding contributions to environmental protection and the clean water community. Congrats again to all of you, these recognitions are well deserved!
Partnering for Impact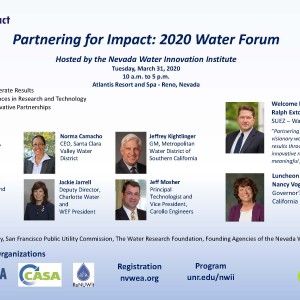 The Nevada Water Innovation Institution in collaboration with California Water Environment Association (CWEA), Nevada Water Environment Association (NWEA), and CASA will host the Partnering for Impact 2020 Water Forum on March 31, 2020, at the Atlantis Hotel and Casino Resort in Reno, NV. You do not want to miss this event which will feature over 100 leaders from the water sector discussing the importance of partnership and themes of Visionary Leadership to Accelerate Results, Driving Innovation with Advances in Research and Technology, and Achieving Goals through Innovative Partnerships. Find the link to register and learn more here:
2020 Water Forum.