CASA Annual Conference 2021
Join us next week, August 11-13 for CASA's 2021 Annual Conference at the Hilton San Diego Bayfront hotel. Register today and please be sure to follow the safety guidelines, notices and waivers in place. We hope to see you in sunny San Diego!
HHS-Utility Webinar on Low-Income Water Program


On August 12, from 12:00-1:00pm, the Department of Health and Human Services (HHS) will host a webinar on the Low-Income Water Program. This is a webinar designed for water and wastewater utilities to learn more about the emergency Low-Income Household Water Assistance Program (LIHWAP). It will include an overview of the structure of the program at all levels, coordination of assistance for households, federal requirements of the program, and address water provider questions. Register Here.
California Water and Wastewater Arrearage Payment Program Survey Webinar


On August 19, from 10-11:30am, the State Water Resources Control Board will host a webinar: California Water and Wastewater Arrearage Payment Program Survey. The webinar will cover training on how to complete the California Water and Wastewater Arrearage Payment Program Survey which will collect information on drinking water residential and commercial arrearages, as well as revenue loss during the COVID-19 pandemic. This survey will help the State Water Board determine Program eligibilities, application requirement, and the allocation of funds for community water systems. Register here.
WELL UnTapped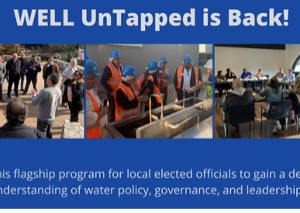 The Water Education for Latino Leaders (WELL) recently announced the return of WELL UnTapped Fellowship, a selective program that creates an opportunity for local elected officials to engage with water issues through a comprehensive exploration of history, governance, public policy, geography, and economics and their relationship to human rights and climate change. UnTapped session content includes lectures given by water professionals and skill-based exercises that help participants ask better public policy questions and strengthen public speaking and relational skills.
WELL UnTapped 2022 includes a mix of in-person and virtual sessions. You can click here to access the application and schedule for 2022, or click here to learn more about the UnTapped Fellowship broadly. The application is due August 27, 2021.
ACT EXPO


CASA is proud to participate as an endorsing organization partner of the 2021 Advanced Clean Transportation (ACT) Expo. Celebrating its 10th anniversary, ACT Expo is North America's largest advanced transportation technology and clean fleet event. Bringing together more than 4,000 stakeholders across the industry for an expansive showcase of the technologies, fuels, policies, and organizations to drive innovation and sustainability on our roadways. The 2021 event will be held August 30 through September 2 at the Long Beach Convention Center. More information is available on the website.
EPA Webinar on Developing and Maintaining Workforce and Equity Partnerships


The Office of Water at EPA invites you to register for their next Water Workforce Webinar on September 15th from 9:00am – 10:30am PT. This is part of an ongoing series of webinars to provide information across the water sector on ways utilities and others are addressing the challenges of building and maintaining a sustainable water workforce for the future. A link to previous webinars can be found here. The September webinar will focus on building partnerships for effective state-wide workforce programs and efforts to attract talented individuals from disadvantaged communities into water utility jobs. To register, please follow this registration link. PDHs will be available for those who attend the webinar.
CAAWEF Leadership Summit and Fundraiser


Save the date for the California African American Water Education Foundation's (CAAWEF), Second Annual Leadership Summit and Fundraiser on Friday, November 19, in Long Beach, CA.