CASA and CWEA Excess Capacity Webinar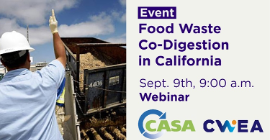 Tomorrow, Wednesday, September 9, 2020, from 9:00am to 10:30am, CASA and the California Water Environment Association (CWEA) will host a joint webinar:
Food Waste Co-Digestion in California – The Role of WRRFs and Investment Needs to Maximize Co-Digestion in Support of SB 1383
. In response to Senate Bill 1383 (SB 1383) adopted in California in 2016, municipal wastewater treatment plants (WWTPs) offer one avenue for the targeted organics diversion by accepting food waste diverted from landfills and co-digesting it with municipal solids. Through co-digestion of diverted food waste in anaerobic digesters, municipal WWTPs can help achieve SB 1383 goals while producing and making beneficial use of biogas, which is a renewable energy source. The California State Water Resources Control Board received a multi-purpose grant from the United States Environmental Protection Agency (EPA) to analyze co-digestion capacity at municipal WWTPs in California and selected Carollo Engineers, Inc. to complete the study. This webinar will summarize the major results of this comprehensive study. While results are specific to this state, the evaluation methodologies, costs, lessons learned, regulatory considerations, and potential greenhouse gas emissions will be valuable to any facility, state, or regulatory body considering implementation of organics waste diversion through co-digestion.

CA-NV AWWA and CWEA Operator Certification Webinar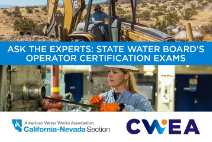 On Thursday, September 10, 2020, from 12:00pm to 1:00pm (PT) the Certification Teams from the California-Nevada Section of the American Water Works Association (CA-NV AWWA) and the California Water Environment Association (CWEA) are hosting a webinar:
Ask the Experts: State Water Board's Operator Certification Exams
. This webinar is an informative and free webinar for water professionals and utility leaders focused on the State's drinking water distribution, treatment and wastewater treatment operator exams. Annette Caraway, the Chief of the Office of Operator Certification within the State Water Board's Division of Financial Assistance will be joined by members of her team who oversee various aspects of the State's program including the application, exam and certification process.
NACWA Wipes Webinar


On Wednesday, September 16, 2020, from 11:00am to 12:30pm (PT) the National Association of Clean Water Agencies (NACWA) is hosting a webinar: Wipe Out: How States and Municipalities are Flushing the Wipes Dilemma. This webinar will look at the current state of legislation, regulation, and litigation around wipes and other non-flushable products, as well as how the COVID-19 pandemic have heightened attention to the issue and utility responses. Webinar speakers will provide updates on all of these aspects of the "war on wipes," challenges facing utilities, and how NACWA and its members have worked with other organizations through the Association's Toilets Are Not Trashcans™ campaign to provide solutions. Jessica Gauger, CASA's Director of Legislative Advocacy and Public Affairs will be on the panel, so you won't want to miss it!