San Francisco Bay Water Board Names New Executive Officer
CASA staff sends their congratulations to Eileen White, who was recently appointed as the new executive officer of the San Francisco Bay Regional Water Quality Control Board. Eileen has worked closely with CASA over the years in her role as director of East Bay Municipal Utility District's Wastewater Department. "The board is delighted to welcome Eileen White, known throughout the region for her years of leadership at the East Bay Municipal Utility District in both wastewater and drinking water, areas of critical importance to us all," said Jim McGrath, chair of the San Francisco Bay Water Board. Well-deserved and congratulations to Eileen, CASA staff looks forward to continuing collaboration during this next chapter. View the State Water Board press release here.
Anaergia's Bioenergy Facility Receives Distinction Award for Global Wastewater Project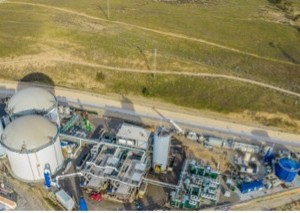 Last week, CASA associate member, Anaergia Inc. announced that its Rialto Bioenergy Facility in Rialto, California, received the Distinction Award for Wastewater Project of the Year at the Global Water Awards 2022, one of the water industry's most prominent international awards programs. The award was presented at a ceremony in Madrid, Spain, on Tuesday evening.
The Rialto Bioenergy Facility is a $185 million project built, owned, and operated by Anaergia. It is one of North America's largest organics processing facilities, with the capacity to convert up to 1,000 tons per day of wastewater biosolids and landfill-diverted, organic waste into up to 985,000 MMBtu of renewable natural gas and agricultural fertilizer. By reducing the landfilling of organic waste and producing a carbon-negative fuel, the facility's net carbon dioxide emissions reduction is approximately 220,000 metric tons annually—equivalent to taking 47,500 cars off the road. Congratulations to Anaergia! Read more in the press release here.