LACSD Achieves Carbon Neutrality
Early this month, the Los Angeles County Sanitation Districts, which manages wastewater and solid waste for over half the residents in Los Angeles County, announced that its operations result in a net reduction of greenhouse gases into the environment! Read more in the press release here.
OC San Lab Named First California Public Laboratory to Receive Accreditation to Detect PFAS in Wastewater


The Orange County Sanitation District (OC San) is now the first municipal wastewater laboratory in the state of California accredited to test for per- and polyfluoroalkyl substances (PFAS) in wastewater and is one of 10 labs in California accredited to test for PFAS in wastewater (the other nine are commercial labs). Congratulations to OC San! For more information, please visit the OC San webpage.
OC San's Wastewater 101 Citizens Academy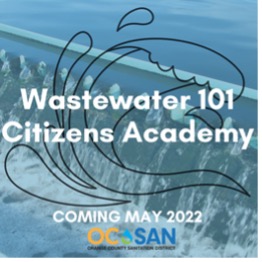 Orange County Sanitation District (OC San) has created a Wastewater 101 – Citizens Academy to teach their community how they safely collect, treat, recycle and dispose of the wastewater generated by 2.6 million people in central and northwest Orange County. This Academy will break it all down in four workshops so attendees can walk away with a better understanding of what OC San does, how they do it, and why they do it.
Each workshop will be virtual and led by an OC San expert. The topics will include:
Who We Are and What We Do
OC San the Nuts and Bolts
Building for the Future: OC San's Capital Improvement Program
Protecting Our Environment: Fundamentals of Environmental Services
Workshops will be held on Thursdays at 6 p.m. starting May 12 with a tentative Plant Tour scheduled on June 18 and a graduation on June 22. The Academy is available to anybody 18 years and older.
To learn more and register visit www.ocsan.gov/wastewater101