In Memoriam
We are deeply saddened to inform the CASA membership of the passing of Fairfield Mayor, Harry Price. "Mayor Price was just about to complete his fourth term in office but has served the public in one capacity or another for the majority of his life," the City said in the statement. "Mayor Price truly loved his community and was a great advocate for Travis Air Force Base and quality youth programs. His presence will be keenly missed." Harry was an integral part of CASA, serving as Board President from 2008 – 2009 and was beloved by all. We will all miss Harry's welcoming presence and kind heart. CASA extends their deepest condolences and sympathy to Harry's family, friends, and all those whose lives he touched, especially within the CASA and Fairfield communities. See the news release here.
EMWD Introduces 'The Drop' Podcast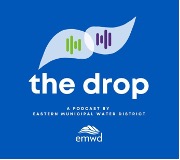 Last month the Eastern Municipal Water District (EMWD) debuted a new podcast, The Drop, where EMWD brings the latest information on the water industry right to customers ears. The Drop debuted in mid-November and weekly episodes are planned. EMWD staff and guests will discuss a wide range of industry topics, including the drought, water quality, planned programs, infrastructure and much more. The episodes are available on Apple Podcasts, Spotify and online at www.emwd.org/thedrop and will publish weekly on Thursdays. Read more here!
Welcome New CASA Member!


City of Livermore
OC San Selects Next GM


The Orange County Sanitation District's (OC San) Board of Directors has selected OC San's Assistant General Manager Robert (Rob) Thompson as the next General Manager, effective February 10, 2023. Thompson will replace James (Jim) D. Herberg who is set to retire on February 9, 2023, after a longstanding career at OC San. Herberg has been with OC San for more than 30 years and served as the General Manager since 2013. Mr. Thompson was selected after an extensive national recruitment effort. "Rob understands the history of the agency and has demonstrated that he is the ideal candidate to continue leading OC San in a direction of innovation and progress," stated OC San Board Chairman Chad P. Wanke. "The Board is extremely pleased with the decision and looks forward to working with Rob in his new capacity." Congratulations to Rob and farewell wishes to Jim who is a long time CASA Board Member and friend. Read more here.
OC San Secures Federal Funding for the Supercritical Water Oxidation Project


The Orange County Sanitation District (OC San) will receive $3.45 million from the Federal Government to help support the Supercritical Water Oxidation Project. OC San has partnered with 374Water to build a six-ton-per-day demonstration project called AirSCWO Nix6. This process uses water at a high temperature and pressure to oxidize and break down complex compound materials like PFAS. Once treated, OC San expects that the compounds are transformed into more basic and benign compounds to enhance public health by reducing exposure PFAS and microplastics. Read more in the press release here.