Buy American Deadlines and Guidance
As most of you know, the President has signed into law the 
Infrastructure Investment and Jobs Act
. The $1.2 trillion package provides the 
largest federal clean water federal investments
 in decades for communities to update aging infrastructure, as well as helps address growing climate, water quality, and affordability challenges. One area of concern is that the new law includes provisions that expand Buy American/Build American mandates across all infrastructure sectors, including water. The mandates include "manufactured products" used in drinking water and wastewater projects, in addition to iron and steel products that are currently subject to the domestic procurement requirements. It is important for wastewater agencies to understand that these requirements will apply not only to projects funded with direct appropriations but also to all future CWSRF loans after the Act takes effect, 180 days from November 15.
The Office of Management and Budget is working on guidance for implementing the law, but we understand it is possible that the 180-day period before the law takes effect will be considered the grace period, and no additional grace period would be offered. Thus, if your agency has a project in the funding queue with the State Water Board, it is in your interest to try to expedite the process and secure a loan commitment before May 15, 2022, if you want to avoid being subject to the new broader Buy American requirements.
We will keep you apprised as implementation guidance is developed, in the meantime, feel free to reach out to us directly if you have any questions.
AAEES Webcast on the Role of Leadership in Water Organizations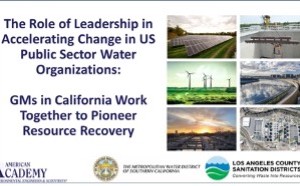 The American Academy of Environmental Engineers and Scientists (AAEES) hosted their 2021 Virtual West Coast event highlighting the role of leadership in accelerating change in the US public sector water organizations. The keynote speakers were the general managers of the Metropolitan Water District of Southern California, Adel Hagekhalil, and the Los Angeles County Sanitation Districts, Robert Ferrante, who highlighted the importance of their agencies' partnership on the Regional Recycled Water Program. If you were unable to catch the live presentation, the recorded version is available here: https://www.youtube.com/watch?v=rWJFb25TjHo.
EPA Announces Appointment of Martha Guzman as Regional Administrator for EPA Region 9

The U.S. Environmental Protection Agency (EPA) Administrator Michael S. Regan announced that President Biden will appoint Martha Guzman to become EPA's Regional Administrator for Region 9. Guzman will lead the implementation of the Biden-Harris environmental agenda in Arizona, California, Hawaii, Nevada, the Pacific Islands, and 148 Tribal Nations. "Given Martha's extensive background in successfully delivering access to underserved communities, I am confident she is an excellent choice to lead our Region 9 team. Martha is an experienced leader that values economic justice and will represent the best interests of the residents in the region," said EPA Administrator Michael S. Regan. Read more in the full
press release
.