House Passes Comprehensive PFAS Legislation
This week, the House of Representatives passed the PFAS Action Act of 2021 (H.R. 2467).  The bill was approved on a bipartisan basis 242-183 with 23 Republicans joining all Democrats to approve the legislation. The next step is for Senate consideration of the measure.  Currently, the Senate has not indicated when it will consider H.R. 2467.  However, Committee on Environment and Public Works Chairman Tom Carper (D-DE) and Ranking Member Shelley Moore Capito (R-WV) issued statements that they view PFAS as an important issue, but have yet to consider a Senate approach.
As passed by the House, H.R. 2467 maintains:
Mandate designation under Superfund of PFAS as a hazardous substance within one year of enactment and within 5 years whether to designate all other PFAS PFOA substances.
Require testing for PFAS relying on Toxic Substances Control Act and other analytical methods
Require manufacturing and processing notices by USEPA that PFAS, PFOA presents an unreasonable risk of injury to health or environment and prevent the manufacturing or processing of PFAS, PFOA beginning on the date of enactment for five years
Require within two years of enactment for USEPA to propose and issue a national primary drinking water standard targeting at a minimum PFOS and PFOA (EPA may include other substance or class in the standard
A standard must be finalized within one year of proposed standard (6 month extension allowed) and must be protective of most vulnerable subpopulation
Require monitoring by water systems and include requirements for systems that do not detect (or substance below standard)
Within 18 months USEPA may list additional substances or subclasses to the drinking water standards
Enforcement of any standard cannot occur earlier than 5 years after the date of standard promulgation
Grants program established to support water systems treat PFAS
Prohibits incineration of PFAS
Require labeling "PFAS free" of pots pans, cosmetics etc.
Require notification of PFAS discharges into wastewater treatment systems
Require USEPA to develop risk communication strategy to inform public about PFAS threats to land, water (including drinking water), and products
Require EPA to issue Clean Water Act effluent standards, pretreatment standards and water quality criteria for PFAS
Provide grants ($200 million per year for 5 years) to wastewater agencies to implement standards
When the House voted to approve the bill, it adopted a limited number of amendments to the bill.  These are selectively summarized below.
Key Amendments Adopted, include:
Grants assistance program to support PFAS treatment modified to be consistent with grants program contained in INVEST in America Act (H.R. 3684) No substantive impact
EPA to create a website to provide support to well owners test water and understand analysis. No substantive impact.
Require PFAS risk communication strategy to address PFAS agricultural impact. No substantive impact.
Create $100 million grants program to test and remediate PFAS contaminants found in schools. No substantive impact.
Revise PFAS treatment grants program to allow applicants that have undertaken remediation prior to enactment to certify that treatment was inadequate to remove all detectable amounts. Substantive impact as it allows for grants eligibility.
Require EPA to obtain analytical reference standards for PFAS to support protocols development and enforcement activities. Substantive impact.
Increase annual funding for water system grants assistance to $500 million. Substantive impact providing more funding.
Adds to items to listing of PFAS free labeling of products. No substantive impact.
Amends treatment technology certification of effectiveness list to be published 150 days after enactment and revised every two years. Priority for assistance to go to: 1) disadvantaged community, 10% cost-share, demonstrate ability to finance eligible technology, or located in an area that PFAS has impacted a sole source aquifer or principal drinking water supply.
Provide that within 3 years effluent limitations must be issued for each class and subclass of PFAS substance. Establishes priority industries for regulation.  Measurable amounts of PFAS is defined to be standards using Clean Water Act authorities (section 304(h) ).
Provides $1 billion over five years to support implementation of pretreatment programs by wastewater agencies. Grants limited to $100,000 per agency. Grants cannot be used to pay the costs associated with tax-exempt bonds.
White House Releases Interim Guidance For Environmental Justice Initiative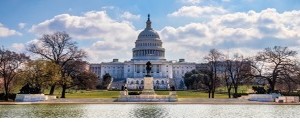 The White House released interim guidance for its Justice40 Initiative. The guidance outlines recommendations and required actions for agencies that manage funding programs covered by the Initiative. Such actions include identifying the benefits of covered programs, determining how covered programs distribute benefits, and calculating and reporting on reaching the Initiative's funding goals. The Justice40 Initiative is whole-of-government effort to have federal agencies work with states and local communities to deliver at least 40 percent of the overall benefits from Federal investments in climate and clean energy to disadvantaged communities.
The guidance identifies the following water infrastructure funding programs as covered under the Initiative include the Clean Water State Revolving Fund, the Drinking Water State Revolving Fund, and Reducing Lead in Drinking Water.