Resource Toolkit
CASA has created a Resource Toolkit to aid in agency outreach, we hope that these tools are simple enough to "copy + paste" to social media platforms or other communications, so that you and your teams can keep continued focus on the pressing issues facing agencies at this time. Please feel free to use any of this content or information as you see fit.
Sample Social Media Posts:
Post
Graphic
Doing a lot of home cooking lately? Make sure to can the grease! Pouring household grease down the drain can wreak havoc on home plumbing and public sewer systems. #KeepItFlowing
Paper towels, wet wipes, cleaning wipes, cosmetic wipes, and feminine hygiene products should never go in the toilet. Only human waste and toilet paper are OK to flush! #WipesClogPipes
 
We know you're working hard to keep yourselves healthy. Help us keep our community sewers healthy as well. Remember to never flush wipes, paper towels or tissues because they clog the pipes! #WipesClogPipes #KeepItFlowing
 
With so many people home all day there's a lot more water going down the drain! Our crews are working hard 24/7 to keep our systems up and running. #KeepItFlowing
[photo of your agency's employees in field]
The State Water Board warns Californians not to flush cleaning wipes, paper towels or hand towels down the toilet because they can lead to major problems with your home plumbing and your local sewer system. #WipesClogPipes #KeepItFlowing

 

https://twitter.com/CaWaterBoards/status/1240027893373104128

 

Did you know? Sewage collection and treatment is thought to be one of the most significant public health advances of the 20th century – now more than ever we are proud to protect our community and environment through effective wastewater management. #KeepItFlowing
 
Kiddos looking for something new to stream? Check out The StoryBots! They have a fantastic episode titled "What Happens When You Flush the Toilet".

While our crews continue to perform essential work to protect public health and the environment, you may see them out in your neighborhood. We ask that you remember to maintain a safe social distance and share a friendly wave! #EssentialHeros


As we continue to navigate COVID-19 shelter in place, our staff is working hard to provide wastewater services 24/7. The health and safety of our customers and employees is a top priority, so if you see a crew member in your neighborhood, please keep 6' away and share a friendly wave with our essential workers. #KeepItFlowing

https://www.tvguide.com/tvshows/ask-the-storybots/episode-8-season-3/what-happens-when-you-flush-the-toilet/967436/
Hashtags: #WipesClogPipes #KeepItFlowing
Additional Graphics: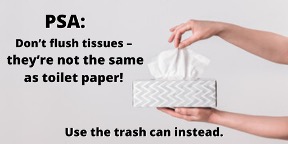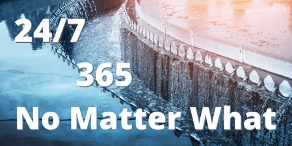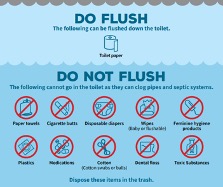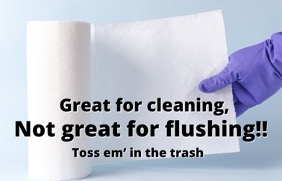 Twitter Posts for Retweet:
Please find links to recent media coverage on our Wipes webpage:
We will continue to update the CASA "Wipes" webpage in real time with wipes related links as they are released.
CASA's Media Statement on Flushing Wipes:
The improper disposal of wet wipes in sewer systems is a chronic problem that we have been focused on for many years, and we are hearing reports of agencies experiencing increases in problems as a result of the activities related to COVID-19.  Some wipes are marketed as "flushable," but they don't break down the same way that toilet paper does.  Other wipes like diaper wipes and surface cleaning wipes are made primarily of plastic and aren't intended to be flushed yet end up in the toilet anyway out of convenience or because they aren't properly labeled to indicate that they should only go in the trash.  When all of this debris enters our wastewater infrastructure it combines with other waste products like grease and creates major obstructions.  These clogs can result in sewage overflows in homes and in neighborhoods. 
When clogs occur further down in the systems it can result in clogged pumps, require additional debris removal at the treatment plant and ultimately requires the end-of-the line management of solid waste which should have been put into the trash in the first place.  This is costly for utilities, and ultimately for utility customers.  It also puts workers at risk when they are exposed to raw sewage to untangle equipment and clean out clogged lines or spilled sewage. While limiting worker exposure to untreated wastewater is always preferred, this is particularly concerning now as we are facing a global pandemic.
We have been hearing concerns from local utilities about the influx of wipes debris related to the increased usage of household surface cleaning wipes and "flushable" wipes or diaper wipes being used in place of toilet paper, which is in short supply in some places.  Our utilities are working day and night to keep the systems working for our communities.  In such a challenging time we urge the public to be cognizant of the ramifications of flushing items that are not intended to go into our public wastewater systems.  Paper towels, all single use wet wipes like diaper wipes, cleaning wipes, or cosmetic wipes, feminine hygiene products, and diapers should never go in the toilet.  The last thing we want to see during such a challenging time is our public infrastructure jeopardized unnecessarily.  We join the State Water Board in urging the public to please only flush human waste and toilet paper.
External Communications:
Communication Strategies + Public Education
Press Release to Ratepayers:
Notice to Vendors & Suppliers:
Internal Communications:
FAQ's:
Safety Guidelines and Resources:
HR Documents:
General Manager Messages:
Up Coming Webinars:
CASA + CWEA: June 18, 2020,  Wipes Webinar 1: Legislative and Public Outreach Efforts from 11:00am to 12:45pm
CASA + CWEA:  June 25, 2020 Wipes Webinar 2: O&M and Technology Strategies from 11:00am to 12:30pm