Help us Welcome Spencer Saks to the CASA Family!
CASA is pleased to introduce the newest member of our team, Spencer Saks. Spencer has been hired as CASA's Legislative and Regulatory Analyst and will be supporting the state legislative and regulatory advocacy programs. His first day was Monday and he's ready to hit the ground running. Spencer will be a key point of contact for CASA members on legislative and regulatory issues. Before coming to CASA Spencer participated in the Legislative and Public Policy Clinic at McGeorge School of Law where he worked as a Legislative Advocate. He also worked as a Special Advisor to The Gualco Group, Inc. while attending law school full time. He has a bachelor's degree in political science in addition to a J.D. from McGeorge School of Law in Sacramento. Please help us in welcoming Spencer to the CASA team and community! He can be reached at ssaks@casaweb.org.
CASA Mentoring Program: Year Two!


Calling all mentors and mentees! CASA is pleased to share that we will be continuing the CASA Mentoring Program in 2022-23 after a successful inaugural year. This 11-month comprehensive program, kicking off in October 2022 and concluding in August 2023, serves to connect clean water professionals from across the state of California. Working with Core Consulting, which has a depth of experience developing mentoring and training programs working with public agencies, CASA will match mentor/mentee pairs based on their professional goals, preferences, and experience. The program is open to both associates and agency members, and this year we hope to add additional resources and opportunities for participants. If you already know you are interested in this program for the upcoming year, please email Alyssa Downs (adowns@casaweb.org) so we can add you to our interest list. Keep an eye out for more information on this exclusive member benefit in the next few weeks!
Deadline Approaching: CASA Education Foundation Scholarships Available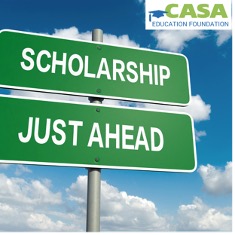 Does your local college or university know about CASA's financial aid to students interested in a career in water? The CASA Education Foundation helps energize the future of the clean water sector by awarding scholarships to promising students on a path to serving the environmental community. The Foundation is accepting scholarship applications through May 15, 2022. Help CASA spread the word by sharing this flyer with your local colleges! For information on how to apply, who is eligible and the scholarship guidelines, visit the website.
Sign up for CASA's Regulatory Updates
CASA's Regulatory Workgroup regularly puts together a comprehensive e-newsletter to share all regulatory updates on key issues and workgroup initiatives with the CASA membership. If you are interested in receiving these regulatory updates, please contact Jared Voskuhl. Last month's edition is available here.